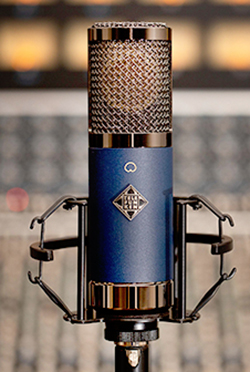 The newest member of the Alchemy Series, the new TF11 is Telefunken Elektroakustik's first large-diaphragm phantom-powered condenser microphone:
Blending an Austrian-inspired voicing similar to the classic AKG C12 with modern FET performance, the TF11 is tailored for an open and detailed 3D sonic image, with a quick, accurate transient response, high SPL handling and low self-noise.
The TF11 features a combination of circuit elements shared with other Telefunken Elektroakustik designs. The CK12-style edge-terminated capsule is a single-membrane version of the capsule featured in the TF51. The amplifier is a proprietary take on the classic FET mic amplifier similar to the M60, coupled with a custom large-format nickel-iron core transformer by OEP/Carnhill made in the UK. Premium through-hole components include UK-made polystyrene film capacitors, Nichicon Fine Gold electrolytic capacitors, and a high-performance, ultra-low-noise JFET amplifier.
'The TF11 was developed to bring the Alchemy Series pristine audio quality into a more compact and convenient package, designed for the studio, built for the stage, and affordably priced,' the company says. 'Created, hand-assembled and tested in the US, all critical components are subject to the same high standards as the rest of Telefunken Elektroakustik's product line. Available as single mics, or matched stereo sets.'
The Telefunken TF11 is available at an MSRP of US$895.