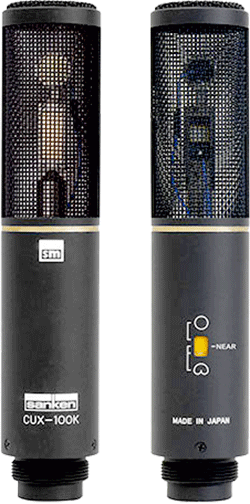 Sanken Microphones has debuted the CUX-100K cardioid/omnidirectional super-wide range professional microphone.
The newest mic in the Sanken Chromatic line is based on the company's omni-mode CO-100K, but with the ability to change modes with three settings – Cardioid (Far), Cardioid (Near) and Omni modes.
The design of the CUX-100K is suited to a variety of high-resolution, high sample rate recordings, both in spacial or close miking applications. The mic follows the success of Sanken's CO-100K with top engineers and producers who embrace the concept of 100kHz high-resolution recording. Intended for ensemble, solo, vocals and orchestral mic arrays, plus specialised uses such as Foley, location sound effect recording, and all types of acoustic instruments, Sanken reckons the CUX-100K to 'usher in a new era of transparent precision recording'.
In Omni mode, like the CO-100K, the CUX-100K precisely captures source, spacial and ambient sounds with articulation and clarity. With a frequency response up to 100kHz, the mic enables subtle nuances of the performance to enhance recordings with a clarity and depth not possible with standard microphones.
In Cardioid (Far) mode, the CUX-100K records a mix of moderate ambience and main performance sources with cardioid directivity, perfect for stereo and multichannel pairing.
In Cardioid (Near) mode, the CUX-100K can operate as a spotlight, solo, or vocal mic. To selectively reject some ambience the mic is optimised up to 50kHz, for exceptional performance response.
Because of the way in which analogue-to-digital converters operate, the CUX-100K takes advantage of the heightened frequency response of the new hi-resolution digital audio formats. As X-Y, ORTF and Decca Tree overheads, the CUX-100K excels in capturing the spatial reality of specialised acoustic spaces.
The CUX-100K Cardioid carries an MSRP of US$3,400