US company Avantone Pro has announced Kick, an aptly-named sub-frequency kick drum microphone using the reproduction 'white cone' low-frequency driver from its CLA-10 loudspeaker to capture lower frequencies than a standard dynamic microphone.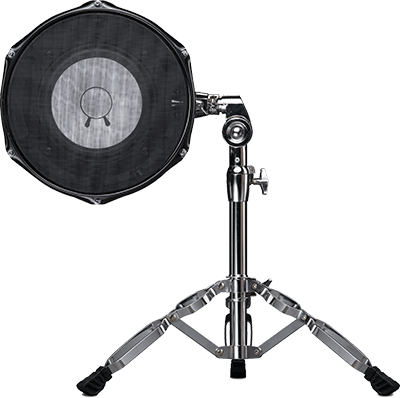 Using a loudspeaker driver as a low-frequency capture microphone is not new – they are complementary applications of transducer technology, as demonstrated by The Beatles use of the technique on 'Paperback Writer' in 1966.
Avantone Pro's AV-10 MLF low-frequency replacement driver used in the CLA-10 (the company's recreation of the Yamaha NS10 monitor) is at the heart of Kick. It has a single continuous press-formed cone to match that classic sound and allows a much higher level of quality control and consistency during the manufacturing process as well as delivering strong bass reproduction. In Kick's case, the AV-10 MLF's distinctive 18cm cone acts as a microphone element. The microphone itself is of a moving coil dynamic type, with a 50Hz to 2kHz frequency response, 6.3Ω output impedance, and figure-eight pattern, plus a male XLR connector. All are housed in a birch plywood drum shell with a 10-inch mesh drum head.
To mount Kick on a standard mic stand would not do the job justice – and so Avantone Pro ships a stage-ready, double-braced drum stand with the mic.
See also:
More: www.avantonepro.com