Avantone Pro has announced the CLA-10A active studio monitor system to accompany the existing CLA-10 passive studio monitor and complementary CLA-200 Studio Reference Amplifier.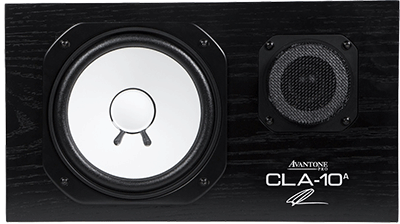 Taking its CLA signifier from mix engineer Chris Lord-Alge with whom they were developed, the CLA-10 'classic studio reference monitor' takes its cue from Yamaha's NS10 and is a full-range, two-way passive speaker for fixed or remote use. The new CLA-10A shares the same 35mm AV10-MHF high frequency silk dome-based tweeter and custom-designed 180mm AV10-MLF low-frequency driver – based on paper cone construction with 'old-school' speaker design artistry, thanks to the finest pulp material that performs as closely as possible to the original by being press formed rather than die cut for tonal consistency. Being an active design, each pair of CLA-10A monitors has matching A/B power amplifiers.
The CLA-10A boasts a rear-mounted VTPC (Variable Tissue Paper Control – a reference to the common use of a tissue paper patch to reduce the tweeter's sibilance) knob that allows users to simulate anything from the vertical 'm' model to the horizontal 'Studio' version – and everything in-between. This tone control effectively enables users to choose the tweeter brightness that best serves their individual needs.
Based by the success of the CLA-10 and CLA-200 Studio Reference Amplifier, Avantone Pro uses a linear power supply to deliver 200W of class-A/B output. A heat sink is required to do so.
The monolithic integrated circuit class-A/B amplifier with wide voltage range and high current-capable output can be run in Parallel Mode – with two devices ganged together to deliver higher output power into low impedance loads for better thermal load performance at high power. At low power, THD is 0.005%; at rated load it is 0.1%. The circuit uses a mixed bipolar MOS high-voltage technology (BCDII 100/120) to handle high-current output without circuit complexity and external components. Consequently, this makes it possible to deliver very high power in a reasonable package with the clean, smooth sound of a linear amplifier.
The system itself is run at ±40V DC, yielding 200W RMS at 1kHz into 8Ω. Rather than use an SMPS (Switch Mode Power Supply) Avantone Pro has remained with a linear power supply with a massive toroidal transformer to create the classic performance of an A/B amplifier.
The CLA-10A ships in March/April 2019, with an MAP of US$999 per pair
More: www.avantonepro.com