The AKG C544L head-worn microphone is designed for amplified presentations, on-stage vocal performance and sports centre instructors.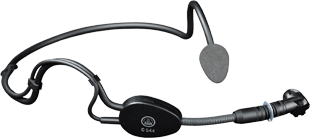 The C544L has afrequency response optimised for speech and vocals. Acheek pad allows it to stay in place even if the user's head is turned abruptly, and the capsule shockmount reduces handling noise to a minimum. A moisture shield prevents perspiration from penetrating into the transducer as well as other additional design features that provide optimum protection from moisture and sweat.
Other features on the microphone include a mini XLR connector that allow the microphone to work with AKG's efficint B29L battery operated power supply and a MPA III L external phantom power adapter. There is also a variant that conforms with AKG's WMS bodypack transmitters, which employ AKG's smart-battery power and re-chargeable technology for the most efficient use of energy available.
'The C544L provides the user with a fully functional system that is consistently reliable, even under the various stresses associated with high-energy performance,' says Thomas Umbauer, product marketing manager PPA, AKG. 'It's the perfect solution for anyone who is going to be in constant motion and in need of a flexible design and intelligible audio. It's extremely affordable, as well.'
More: www.akg.com