Telefunken Elektroakustik is introducing stereo sets of microphones from its Alchemy Series of large-diaphragm studio microphones.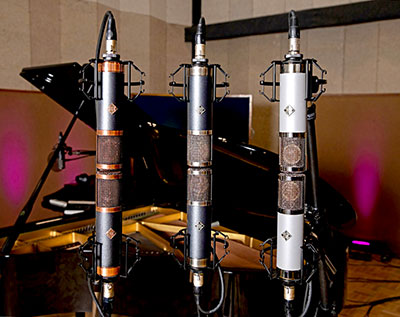 Alchemy Microphone Series Matched Stereo Sets: The TF29 Copperhead, TF39 Copperhead Deluxe, TF47 and TF51 microphone systems, now being offered in matched stereo sets, feature a custom dual power supply capable of powering both microphones simultaneously, as well as a locking flightcase that contains two microphones, cables and shockmounts. All the electronic components in each system are matched sonically and electronically, including matched capsules, transformers, and vacuum tubes.
TF29 Copperhead & TF39 Copperhead Deluxe Stereo Sets: The TF29 Copperhead is an evolution of the CU-29 Copperhead, an original Telefunken Elektroakustik design that won fans with its natural tonality and affordable quality. The TF29 continues this benchmark of outstanding sonic performance and value. A workhorse microphone, the TF29 accurately and transparently captures vocals, acoustic and electric guitar, drums, and virtually any musical source. The TF39 Copperhead Deluxe is an expansion of the 'Copperhead' sound with the addition of a dual membrane K67-style capsule, allowing for three-pattern selection between cardioid, omnidirectional, and fig-8.
TF47 Stereo Sets: The TF47 is a new design based on the 'German sound', drawing inspiration from the historic U47 and M49. With a deep low end and a forward midrange, the TF47 is excellent for adding depth and presence to any source. These characteristics make it especially ideal for recording vocals, guitar amps, and drums. The T47 delivers a warm and punchy sound reminiscent of the U47 with a top-end articulation that sits in a mix.
TF51 Stereo Sets: The TF51 is a fresh take on the 'Austrian microphone sound' associated with the Telefunken ELA M 251E and C12. The TF51 continues this legacy, exhibiting a smooth midrange and airy top end, capturing every nuance in pleasant detail. This is a reliable first choice for stand out vocals, acoustic instruments, and percussion. Premium components and precise attention to detail gives the TF51 a beautifully open and smooth sonic profile
More: https://telefunken-elektroakustik.com/microphones/alchemy-series