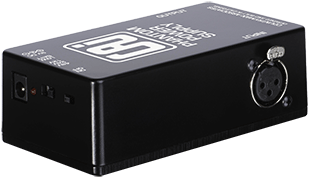 Countryman Associates has introduced the portable microphone Phantom Power Supply for both live and studio recording.
'Condenser microphones need rock solid power for maximum performance, particularly for low noise and high overload,' says Countryman Associates President, Chris Countryman. 'Many mixers and audio inputs provide no phantom power, questionable power, or only provide it in switchable banks. We developed our Phantom Power Supply to deliver the cleanest power and the most options in the smallest possible size. We also built it unreasonably tough, because we wouldn't make gear any other way.'
The Countryman Phantom Power Supply can operate on one 9V battery, two 9V batteries for extended life, or a 9V wall adapter. In addition, selectable 12V, 24V and 48V output settings allow the Countryman Phantom Power Supply to extend battery life for microphones that don't require full 48V power. With a compact form, the unit consists of a rugged die cast aluminium body and low-profile switches.
The new Countryman Phantom Power Supply is expected to be available Q1 2020.
More: www.countryman.com