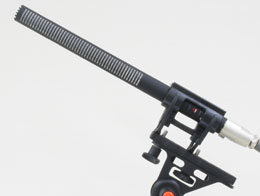 The CS-2 is the latest shotgun microphone from Japanese company, Sanken Microphones.
The new model claims extended reach in a standard length body through the use of the company's gradient tube length and rectangular diaphragm design –a 120mm long acoustic tube in a standard 250mm long/19mm diameter body. The low weight of the CS-2 makes it well suited to camera-mounted or boom pole use in a wide range of applications, including location recording, interviews, sports, drama, and variety TV shows.
A new feature, the high boost switch, compensates for the attenuation of high frequencies when the mic is used with a windscreen/windjammer. An external brass chassis increases durability, while the PPS (Poly-gold Phenylene Sulfide) diaphragm membrane provides resistance to changes caused by adverse temperature and humidity. The sound is, therefore, consistent throughout the day in changing environments and climatic conditions.
More: www.sanken-mic.com