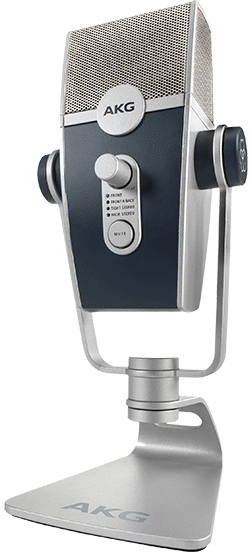 Describing Lyra as an 'ultra-HD multimode' USB microphone, AKG has launched a 192kHz, 24-bit mic with a four-capsule array and support for four recording modes – Front, Front & Back, Tight Stereo and Wide Stereo.
Owing its styling to the AKG C414, Lyra offers control over the capture modes offered by AKG's Adaptive Capsule Array, volume levels and mute, and has an integrated desktop stand with built-in cable management. The mic can also be mounted to a traditional mic stand or microphone boom arm for studio use.
Front mode minimises distracting background noise by rejecting unwanted sounds at the rear and sides for spoken word, vocals, or close-miked d instruments. Front & Back mode is a figure-of-8 pattern for face-to-face interviews and singers, while Tight Stereo mode records discrete left and right audio, providing separation. Wide Stereo mode enhances the stereo field for field recording and room ambience.
The new microphone is also equipped with a 'zero-latency' headphone jack and headphone volume knob that eliminates the short delay between speaking into a microphone and hearing the signal in the headphones, so creators can stay focused on their performance.
'Lyra is built upon that same rich musical heritage and brings legendary acoustic engineering to a versatile USB microphone that delivers the highest-quality audio in its class,' says Harman Professional Solutions Director of Recording & Content Creation, Chris Hansen. 'Whether you're going for a polished, modern sound or a classic vintage vibe, Lyra has everything you need to bring your ideas to life and sound your best, every time.'
Lyra is bundled with Ableton Live 10 Lite recording software and works with all major audio and video production software and online platforms. It is compatible with Windows, Mac, iOS and Android devices.
More: http://akg.com/lyra