Røde Microphones has added the NTG5 to its shotgun microphones line, claiming 'a new standard for the range'. Featuring a acoustic port design providing a superior progressive wave interference, ultra-lightweight construction and broadcast-grade sound, the NTG5 is aimed at the professional user.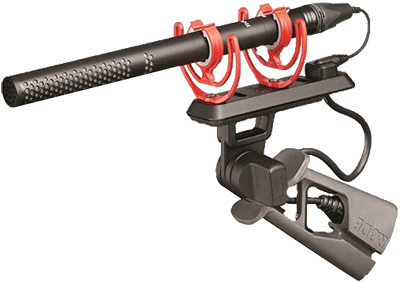 Røde released its first shotgun mic, the NTG1, in 2005 followed by the NTG2 and the NTG3. The NTG5 is the next step in the range's evolution – 'the culmination of Røde's 28 years of research and development of high-quality microphones for broadcast and film applications'.
The NTG5 has a completely overhauled body design, with circular acoustic ports replacing the linear slots found in other shotgun mics. The premium small diaphragm condenser mic was designed in collaboration with engineer Tony Faulker. The TF5's capsule features a perforated acoustic vent design that Røde says caused the design team to 'completely reimagine the NTG5's design, with acoustic perforations employed along the length of the microphone'.
The mic features a short, super lightweight aluminium body (76g), making it one of the most compact professional shotgun mics on the market for boom operators who find themselves on long, demanding shoots, or filmmakers and sound recordists looking for a more portable and lightweight rig that delivers broadcast-grade audio.
Boasting an ideal, tightly controlled frequency response and very low self-noise, the NTG5 serves a wide variety of applications, particularly location recording and demanding filmmaking scenarios. RF-bias technology and conformal coating ensure the NTG5 is reliable in adverse environments, with resistance to wet conditions, high humidity, severe cold and dust.
The highly directional supercardioid polar pattern and smooth off-axis response whether used on a boom pole, pistol grip or on-camera.
Key features:
Low weight of 76g.
Short shotgun 203mm.
Tailored frequency response.
Self-noise of 10dB(a).
Highly directional supercardioid polar pattern.
Smooth off-axis response.
RF-bias technology and conformal coating.
The NTG5 comes in a complete location recording kit, featuring the new WS10 windshield, redesigned pistol grip and other accessories.
More: www.rode.com