American microphone manufacturer Telefunken Elektroakustik has announced the TF39 Copperhead Deluxe large-diaphragm multi-pattern tube microphone.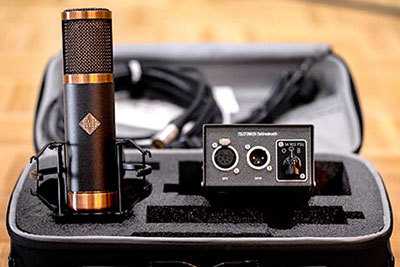 Designed, hand-built and tested to strict quality standards in Connecticut, the TF39 Copperhead is one of four new microphone designs in the company's Alchemy Series – 'the next generation large diaphragm condensers'. The voicings of the new Alchemy Series are the TF29 Copperhead, TF39 Copperhead Deluxe, TF47 and TF51.
The TF39 Copperhead Deluxe is an evolution and expansion of the 'Copperhead', an original Telefunken Elektroakustik microphone design that won plaudits for its natural tonality and pricing, and the TF39 continues this reputation of sonic performance and value. It's a workhorse microphone, accurately and honestly capturing vocals, acoustic and electric guitar, drums, and other demanding instruments
With the addition of a dual membrane K67-style capsule, allowing for three-pattern selection between cardioid, omnidirectional and fig-8, the TF39's added feature set gives the microphone greater flexibility and options in the studio. The cardioid-only version of the mic system is also available as the TF29 Copperhead. Sonically and component-wise, the two microphones are identical.
All systems ship in a compact, protective case for transport and storage. Included are two modern mount options, microphone dust cover, high-flex 7m cable and power supply.