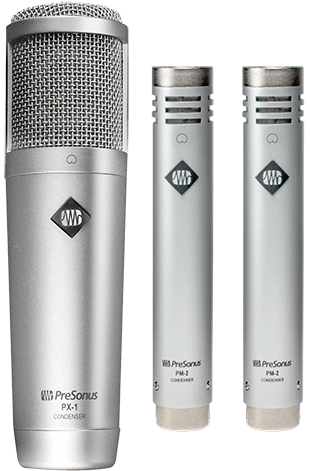 PreSonus has targeted 'a wide variety of recording applications' with two new microphones, the PX-1 large-diaphragm cardioid condenser mic and PM-2 stereo set of matched small-diaphragm cardioid condenser microphones.
The PX-1 is optimised for recording vocals, guitar and podcasts among other sources. A true large-diaphragm, side-address condenser microphone, it features a 1-inch (25mm), gold-sputtered capsule designed to provide clarity throughout its frequency response range. Rugged construction and top-quality performance specifications suit the PX-1 to any home recording or streaming studio.
For stereo recordings of acoustic instruments, drum overheads and ensembles, the PM-2 set comprises a sonically matched pair of small-diaphragm cardioid condenser microphones. Each microphone is equipped with a 0.75-inch (19mm) gold-sputtered capsule housed in an ultra-light chassis, making it easy to position. The PM-2 set comes with a stereo bar for XY mic placement, and the two microphones can be used together or individually in any home or professional recording environment.
Both microphones are available now, with street prices of: PX-1 US$129.95 and PM-2 US$129.95.
More: www.presonus.com