Shure has announced a number of microphone bundles for professionals, aspiring musicians and content creators featuring mainstay products and accessories.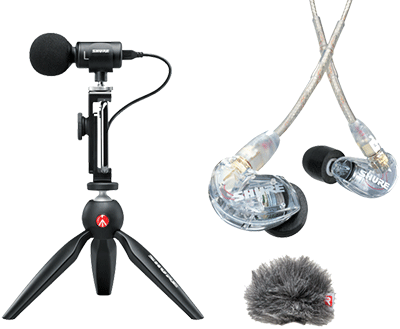 Shure used feedback from customers and sales data to devise practical and reliable bundles for videography, mobile recording, digital recording, schools, houses of worship and small businesses.
The Portable Videography Kit is a professional recording rig that includes Shure's MV88+ Video Kit, SE215 earphones to take care of monitoring, and an AMV88-FUR Windjammer to reduce unwanted wind noise when recording outdoors.
The Shure Mobile Recording Kit enables the recording and monitoring of professional quality content at any location. By connecting the MV5 microphone directly to a computer or smartphone and plugging in the SRH240A headphones to the microphone, users can experience real-time recording and monitoring.
The Shure Digital Recording Kit is made for recording and monitoring directly with computers and smartphones, allowing simple connection of the PGA58 Dynamic Vocal Mic with the included XLR cable and the MVi Digital Audio Interface to the device and use the included SRH240A professional quality headphones for monitoring.
For the aspiring musician, the Shure Stage Performance Kit combines the Shure SM58 vocal microphone with an XLR cable and robust Pro-R-T mic stand from Ultimate Support. The BLX288/SM58 Wireless Dual Vocal System combines simple wireless set-up, professional-grade performance, and two SM58 industry-standard vocal microphones to deliver warm and clear vocal reproduction. The PSM 300 Twin Pack is the ideal monitoring solution for up to two performers, providing a convenient multi-bodypack system-in-a-box with Sound Isolating earphones for clear, precise stereo mixes on stage. The PSM 300 Twin Pack Pro is the ideal monitoring solution for up to two performers and provides a convenient, durable metal construction multi-bodypack system-in-a-box (optional for use with SB900A rechargeable battery) with sound isolating earphones for clear stereo mixes on stage.
For schools, houses of worship, and small businesses, finding a quality 'standalone' audio solution for assemblies, presentations, performances, business luncheons and other events can be difficult, especially for buyers insufficiently experienced to know what and how to assess audio equipment. Shure has provided solutions to make it easier for these customers to find products they need in one package.
'Since Shure's beginning, developing AM radio kits in 1925, the company has been committed to providing innovative products and solutions to a wide variety of audiences,' says Shure Senior Director of Musician and Consumer Audio, Eduardo Valdes. 'That is why we are offering several thoughtfully curated product bundles, complete with the most common accessories to help customers get started. Not only are they convenient, but cost effective, saving money versus buying separately.'
More: www.shure.com