MXL Microphones has announced its Overstream and Overstream Pro Bundles for live streaming and gaming,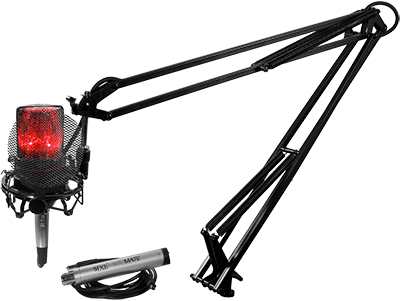 The bundles include a choice of either the 990 Blizzard or 990 Blaze condenser microphone with a desk mounted, hinged-arm mic stand and an integrated all-in-one pop filter and shock mount. The Overstream Pro Bundle includes all the products within the Overstream Bundle with the addition of MXL's Mic Mate Pro XLR-to-USB audio interface.
'MXL's 990 Blizzard and 990 Blaze mics provide live streamers and gamers with a high-quality studio, cardioid microphone,' says MXL Microphones Director, Scott Krueckeberg. 'We wanted to provide our users in this space with a range of options to choose from, from mic selection to the ability to include or not include the XLR-to-USB interface. For those who don't already have an audio interface for XLR-to-USB conversion or would like an upgrade to their existing audio interface, the Overstream Pro Bundle enables them to start live streaming and gaming out of the box.'
Both the 990 Blizzard and 990 Blaze Condenser Microphones offer professional grade studio design and a cardioid polar pattern to reject noise from behind, while the illuminated LED lights in the grille complement any modern streaming or gaming rig. The MXL 990 Blaze features glowing red LED lights in the mic grille while the MXL 990 Blizzard has glowing blue LED lights.
More: www.mxlmics.com