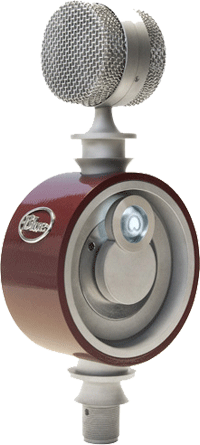 The Blue Microphones Reactor is a multi-pattern condenser microphone using technology from Blue's mic line-up with 'an innovative approach to professional multi-pattern flexibility in one custom-designed microphone'.
Reactor combines an unusual pattern selection method with a swiveling capsule head for precise pick-up and positioning, while Blue's condenser capsule and proprietary preamp circuit allow noiseless live switching between the cardioid, omni and bi-directional pick-up patterns.
'Reactor takes microphone technology and design to the next level, combining Blue's high-quality sound capture with intuitive pattern switching and physical microphone design,' says Blue CEO, John Maier. 'With Reactor, we can offer multiple patterns and high-end audio capture to a wider audience, along with making mulitple mic set-ups more accessible.'
Reactor is built upon Blue's premium large diaphragm, condenser capsule design, along with a custom preamp platform that provides low noise and distortion and silent switching between the cardioid, bi-directional and omnidirectional patterns.
Reactor can be used for applications including vocals, guitar acoustics and room ambience for drums. Like all of Blue's studio microphones, Reactor employs fully-discrete, Class-A solid state components for high-quality, professional recording performance.
Using an innovative swiveling design, Reactor's capsule head rotates fluidly across a 90° range, with resistance to hold the head in a precise position. Facilitating ease-of-use in multiple mic setups such as mid/side or X-Y recording, the swivel head allows fine-tuning of set-up geometry and microphone tone. The recording pattern selection uses LED backlit indicators and a magnifying optic.
Reactor comes with a coordinated carrying case for protection and storage, along with a custom-tailored shockmount and custom pop filter.
More: www.bluemic.com/reactor