sE Electronics has announced the V7 MC2 – a wireless version of the V7 dynamic microphone intended for use with compatible Sennheiser handheld transmitters.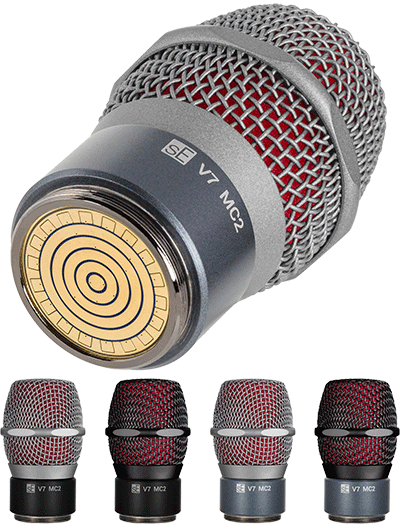 Featuring the same custom-built aluminium voice coil, all-metal construction, integrated capsule suspension and supercardioid pickup pattern as the wired V7 and Shure-compatible wireless V7 MC1, the V7 MC2 brings the same level of performance to the Sennheiser wireless format.
'We've been so honoured to see the V7 and V7 MC1 on stage with countless artists including Justin Timberlake, Billie Eilish, In Flames, Kenny Chesney, Chris Stapleton, Evanescence, Common and Sheryl Crow,' sE says. 'We are extremely excited to now be able to offer the same high-end sound quality and class-leading feedback rejection to artists who rely on Sennheiser systems for their stages.'
The V7 MC2 is now shipping worldwide and is available in four colour options to match various Sennheiser transmitters. All colours are priced at US$149 MSRP/US$129 MAP/€119 SRP.
sE has also introduced the V Pack Series, beginning with the V Pack Club and the flagship V Pack ARENA. Now, sE has added two new products to the V Pack lineup: the V Pack Venue, whose rugged case includes only V7 X, V Kick, V Beat and V Clamp products with empty slots for overhead and hi-hat microphones; and the V Pack Case, the empty case on its own offered as an accessory for users already owning V Series microphones for drums.
The V Pack Case accessory is priced at US$99 MSRP/US$89 MAP/€79 SRP. Pricing and configuration of the V Pack Venue may vary from country to country. Both new V Pack products are shipping now worldwide.