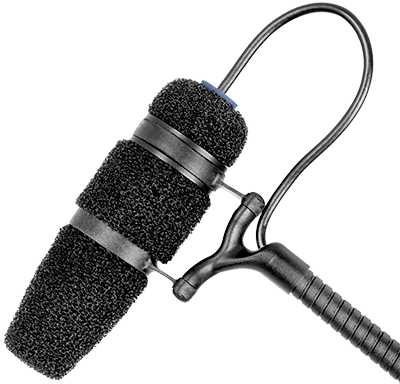 DPA Microphones has announced the 4097 Core Supercardioid Choir Microphone, targetting houses of worship and choir applications.
Designed to capture dynamic choral sounds, and available in both wireless and wired configurations, the 4097 Choir Mic features DPA's flat off-axis supercardioid pattern. As a result, it has a very high-gain-before-feedback, which means using multiple mics can be used on the various parts of the choir and blended together without artifacts created from uneven pick-up.
Configured with a MicroDot connector and a DPA adapter for wired or wireless the 4097 allows wireless use, which allows for great flexibility on stage when there are multiple uses of the same space. Featuring the Core by DPA amplifier technology, a clear sound is achieved as it lowers the distortion and expands the dynamic range. Furthermore, the 4097 includes three shock mounts to secure that rumble caused by movement on the stage, is damped effectively, and at a level that is not seen before in these kind of mic.
'We put a great deal of time into designing a sleek choir microphone that is smaller than other mics of its kind, and has a light and elegant look at the same time. With the same sonic character as all other DPA mics, the 4097 Choir Microphone meets the high standards that users have come to expect from DPA,' says DPA Microphones Product Manager, René Mørch.
More: www.dpamicrophones.com