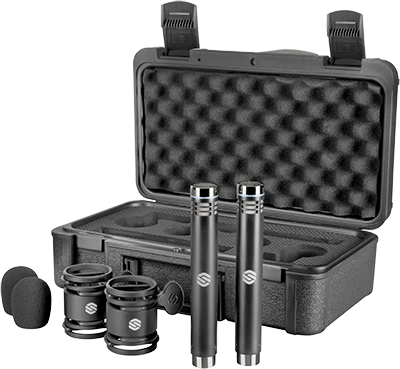 Sterling Audio has announced the SL230MP medium-diaphragm condenser microphone as a matched pair, suitable for stereo recording of acoustic guitar, piano, percussion, choirs, string sections, bands, orchestras and more.
Each SL230 mic employs a gold-sputtered condenser capsule with a six-micron membrane, allowing for very high sensitivity to even the subtlest dynamic nuances in the source material. The mics' cardioid pickup pattern provides high rejection of off-axis sounds, and a class-A FET (field effect transistor) circuit design fosters smooth, wide frequency response and clean, consistent performance. As with most condenser mics, Sterling Audio SL230s operate on standard 48V phantom power.
A switchable highpass filter at 75Hz rolls off rumble and subsonic vibration. A selectable -15dB pad qualifies the SL230 for use in high-volume applications where many condenser microphones fear to tread. With the pad engaged, the SL230 handles sound pressure levels up to 150dB, making the pair a suitable option for drum overheads in a live setting.
Sterling Audio ensures that each pair of two exhibit frequency response and output characteristics within 1dB of one another for consistent level matching in stereo applications in the matching process. The mic set comes with a rugged, padded protective case, two SM9 shockmounts, and two windscreens.
The Sterling Audio SL230MP cardioid condenser microphone pair carries a retail price of US$149.99.
More: www.sterlingaudio.net