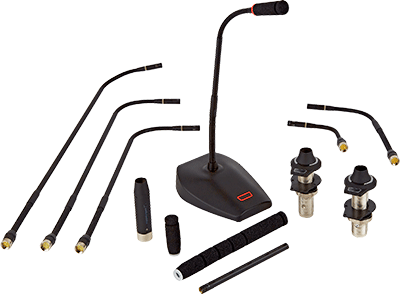 Audio-Technica has updated its Engineered Sound series of fixed-installation microphones.
The new Engineered Sound series offers increased flexibility, enabling a business to customise its audio setup to suit its specific needs,' says Satoshi Yoshino, from the Microphone Development Department at Audio-Technica. 'The variety of microphone options available will ensure any business can find a solution that fits seamlessly into the aesthetics of any meeting room or conference centre.'
Designed and made in Japan, the modular ES range comprises four elements for the ES925 microphone (with cardioid, hypercardioid, omnidirectional and Audio-Technica's own MicroLine condenser options), six goosenecks and four power modules, all of which are interchangeable. The gooseneck sections are available in 6-inch, 12-inch, 15-inch, 18-inch, 21-inch and 24-inch lengths, with all but the shortest featuring a double-gooseneck design to allow for precise positioning.
The four power options across the new ES line comprise the ES8544 in-line module, two flush-mount options – the ES8755R 3-pin and remotely-switchable 5-pin ES8755RC – and the ES8766RC deskstand. Flush-mounts ES8755R and ES8755RC, and deskstand ES8766RC feature an RGB LED, offering eight different colour variations to align with a company's brand identity and to illustrate the on/off status.
With almost 100 combinations of capsule, gooseneck and mounts available, the new ES Series is intended for installations requiring exemplary sound quality with the flexibility of customisable configuration.
More: www.audio-technica.com