US manufacturer Peluso has released the P-414 – a solid-state multi-pattern large-diaphragm condenser microphone inspired by the vintage 1976 AKG C414 EB, incorporating the original CK12-style brass capsule. This brass dual-backplate edge-terminated 34mm capsule gave AKG microphones the detailed mid-range and shimmering high-end air they are most renowned for.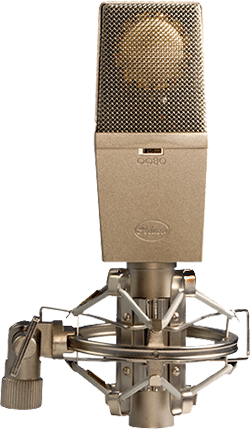 The P-414 has four polar patterns – hyper-cardioid, cardioid, omni and Fig-8, making it suitable for a wide range of recording applications. The microphone is built using the highest quality modern components ensuring very low self-noise and includes a large transformer to remove interference and distortion. The body and head grille are made in-house out of heavy brass and steel for maximum durability.
The mic reckons to 'revive all the best qualities of a vintage classic – delivering excellent sonic performance and manufactured using reliable modern manufacturing methods for enhanced serviceability'.
Key features:
Capsule Type: Condenser Pressure Gradient w/34mm capsule.
Frequency Range: 20Hz-20kHz.
Polar Pattern: Hyper-cardioid, Cardioid, Omni, Fig-8.
Sensitivity: 12mV/Pa.
Impedance: 200Ω.
SPL: 162dB w/20dB pad.
Equivalent Noise: 12dB(A).
Power Requirements: Phantom -48V ±4V.
Current Consumption: < 4.0mA.
Size: 114/188mm H x 51mm W x 38mm D.
Weight: 490g.
The Peluso P-414 ships in a durable carry case and includes a dedicated shockmount and pouch, at a cost of £899 inc VAT (£749.17 ex-VAT) via KMR Audio in the UK.