Targetting live recording for spoken voice in broadcast, live sound reinforcement and studio recording, the Lauten Audio LS-208 microphone is the first in the company's new Synergy Series line.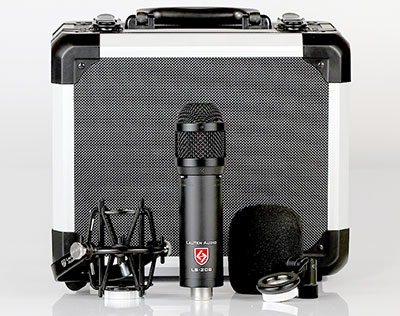 The LS-208 is a front-address, high dynamic range, large-diaphragm cardioid condenser microphone constructed as many high-end studio condenser microphones but built and packaged for broadcast and touring. With the LS-208's off-axis rejection and internally shockmounted condenser element, it is also well suited to recording voices and instruments in highly dynamic environments such as live on-stage, or in a studio live-room when many instruments are being recorded at once.
The LS-208 can handle sound pressure levels of 135dB without the need for internal or external pre-attenuation and can capture the full human audio perception of 120dB of dynamic range. The dynamic range is especially useful for capturing horns, percussion, and guitar amps.
The new mic features independent, multi-stage, high and low-cut filters to help balance recordings at the microphone and aid in successfully capturing a performance while reducing the need for mixing. The two-stage low-cut (50Hz/120Hz) filters reduce low-end rumble and proximity effect in voice applications. The two-stage high-cut (8kHz/10kHz) filters help tame bright instruments and high frequencies. The LS-208 features internally shock mounted condenser elements to help reduce mechanical shock and vibrations. The mic requires 48V phantom power and features a JFET transistor circuit with a transformer-based balanced output.
The Lauten Audio LS-208 microphone comes equipped with a detachable spider shock mount, as well as a hard mount, both with adjustable elbows, and a foam windscreen. The microphone and all its accessories fit into the included hard case, perfect for touring.
'Unlike any large diaphragm condenser microphones on the market today, the LS-208 offers radio broadcasters, voiceover talent, podcasters, and sound reinforcement engineers, studio-quality sound combined with exceptional noise rejection and dynamic-range capabilities for excellent results in any live environment,' says Lauten Audio founder, Brian Loudenslager.
The LS-208 has a street price of US$599.00 and is available now.
More: www.lautenaudio.com