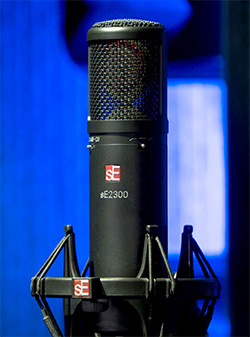 Following an 'updated and refined' version of its sE2200 condenser microphone, sE Electronics has announced the sE2300, a multi-pattern version of the mic that put the company on the map 15 years ago.
The sE2300 features a handcrafted true condenser capsule, two attenuation pads, two low-cut filters, and the same class-A discrete circuitry and robust output transformer as its cardioid sibling. This preserves the clarity and 'larger than life' tonality, while adding both omnidirectional and fig-8 polar patterns to the original cardioid pattern to increase its versatility.
The sE2300 is now available through sE Electronics distributors and dealers worldwide, with a street price of US$399. It ships standard with sE's Isolation Pack quick-lock shock mount and adjustable metal pop filter.
More: http://seelectronics.com