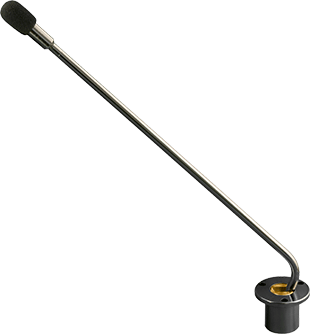 Audix has added two microphones to its installed sound product offering, the M62 boundary microphone and the M65 desktop mic.
The M62 boundary microphone uses The Micros series technology hypercardioid condenser capsule that rests in a proprietary internal shockmount suspension system that is optimised for voice clarity and designed with logic remote or local programmable on-off switching. Features include dual colour LED status indicators, an off-set button for interference-free operation, as well as a tail out or tail down cable exit to accommodate a variety of installation or mounting requirements.
The M65 is an alternative to a standard gooseneck microphone for education, conference rooms and government applications. The M65 features a Micros hypercardioid condenser capsule with rigid tube construction, unique swivel mount and exquisite black nickel-plating. When the microphone is adjusted to the desired position for speech, the M65's precision machined design provides a much quieter and smoother motion than conventional gooseneck microphones. When not in use, the M65 can be laid horizontally for an unobstructed view. Built to withstand daily use, the M65 also comes with an attached foam windscreen to reduce plosives.
The M62 and M65 microphones will ship in Q2 of 2018.
More: www.audixusa.com