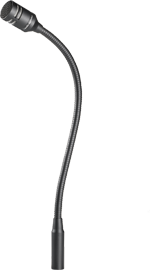 Audio-Technica has released the U855QL Cardioid Dynamic Gooseneck Microphone, a high-quality talkback, paging and dispatch microphone for commercial, industrial and entertainment applications.
The U855QL offers a 150Hz to 16kHz frequency response, has an opencircuit sensitivity of -53dB (2.2mV) re 1V @ 1Pa and weighs 9.8oz (278g).
The low-profile element provides a uniform cardioid polar pattern that reduces pick-up of sounds from the sides and rear, improving isolation of the desired sound source. The microphone's protective screen reduces wind noise and popping when used close to the sound source.
Its adjustable gooseneck permits quick positioning, and the quick-mount design includes an XLRM-type connector insert at the base, allowing the microphone to be plugged directly into an any standard XLRF-type surface or cable connector. The mic also features extremely rugged all-metal construction for long-lasting performance.
More: www.audio-technica.com