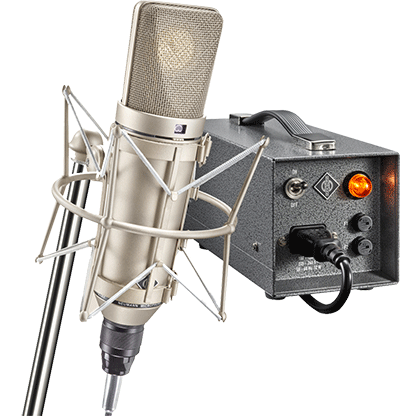 Introduced in 1960, Neumann's U 67 tube microphone became a studio workhorse throughout the formative years of modern music recording, and has since assumed 'classic' status. Now, the iconic tube microphone is back in production and built to the original specifications.
With three selectable polar patterns – omni-directional, cardioid and fig-of-8 – and advanced tube circuitry, including low-cut and pad switches, the Neumann U 67 is equipped for virtually any recording application. Its smooth top-end with a subtle tube shimmer suit it to both male and female voices, while its essentially linear response (in three polar patterns) make it versatile enough for instruments such as strings, woodwinds, brass, piano, drums, acoustic and electric guitar, bass guitar and upright bass.
On its launch, the U 67 was the first microphone equipped with the K 67 capsule, which has since become associated with 'the Neumann sound' and continues to be used in its successor, the U 87 A. No less important is the U 67's tube circuit, which features a clever pre-emphasis/de-emphasis scheme to minimise tube hiss. The U 67 was also the first microphone to address modern recording techniques such as close miking, with a switchable low-cut filter compensating for the proximity effect occurring at short recording distances. Using its pre-attenuation, the U 67 can handle high sound pressure levels of up to 124 dB without distortion – and much more if users do not mind a bit of 'tube grit'.
Sonically, the current re-issue is identical to the U 67 made from 1960–1971. It uses the same capsule and electronic design. Key parts, such as the BV 12 output transformer, have been meticulously reproduced according to original documentation. Its EF86 tubes have been carefully selected in a dedicated measurement facility for optimal characteristics and lowest noise.
The U 67 is hand-made in Germany and ships with an elastic suspension, a microphone cable and the NU 67 V power supply. The power supply was redesigned to meet today's strict safety requirements and to accommodate the slightly higher filament current of newer premium-grade tubes. The new NU 67 V is fully compatible with older U 67 microphones, and automatically adapts to the local mains voltage.
More: www.sennheiser.com