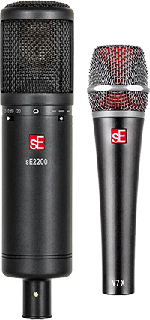 sE Electronics has updated the sE2200 condenser microphone and the V7 X dynamic with an aluminium voice coil intended for a wide range of instrumental applications.
The sE2200 is an updated and refined version of sE's sE2200a and sE2200a II C microphones – the company's first condenser models released almost 15 years ago. Using the same handcrafted capsule, discrete class-A circuitry and custom transformer as the previous versions, the new sE2200 offers improved clarity, lower noise, new pad and filter options to increase versatility, and the fit and finish has been updated with sE's latest manufacturing techniques.
The V7 X is a sibling to sE's V7 handheld dynamic, regarded for its sound and off-axis rejection. While the V7 is intended for vocals, the V7 X's specialised capsule's aluminium voice coil and acoustic design have been specifically tailored for instrumental use, with a lowered resonance and extended frequency response providing a 'perfectly natural balance of detailed highs and deep, clear lows'. The V7 X is intended for use on snares, toms, electric & acoustic guitars and brass.
More: http://seelectronics.com