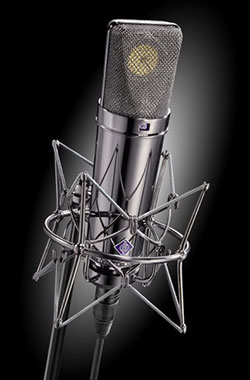 For 50 years, the Neumann U 87 studio microphone has been a reference in audio recording. Now, Neumann is marking its anniversary with a rhodium-plated edition of the mic – the U 87 Rhodium Edition.
'This extraordinary combination is the ideal way to celebrate the 50th birthday of the U 87,' says Wolfgang Fraissinet, President of Neumann Berlin. 'The exclusivity and beauty of rhodium powerfully expresses the timeless quality of this microphone. The Rhodium Edition truly embodies the high standards of Neumann.'
Neumann is offering the U 87 Rhodium Edition only once, made to order and limited to only 500 units worldwide. Each of the meticulously crafted microphones is individually numbered with a certificate of authenticity hand signed by Wolfgang Fraissinet. Every U 87 Rhodium Edition is supplied with a Neumann aluminium case and a special Rhodium Edition EA 87 elastic suspension. A pair of black gloves is also included for keeping the limited-edition microphone in pristine condition.
The U 87 Rhodium Edition is exclusively available via select dealers with orders from September 2017.