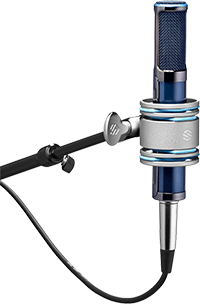 US mic specialist Sterling Audio has announced a line of studio recording microphones comprising six individual mics, a two-mic package, and two new shockmounts.
The ST170 Active Ribbon Microphone has a fig-8 pickup pattern and is optimised for electric and acoustic guitars, drums, vocals and overhead/room tracks. Phantom-powered, it handles up to 132dB SPL for handling high SPL sources such as guitar amps and drums. The ST170 comes with Sterling Audio's SM5 metal shockmount and aluminium case.
The ST169 Multi-Pattern Tube Condenser Microphone has a 1-inch diaphragm and class-A valve preamp for capturing vocals, instruments, speech and overhead/room recording. It offers selectable cardioid, omni, and fig-8 polar patterns, and has a switchable high-pass filter and attenuation pad capable of handling up to 142dB SPL. The mic comes with the SM8 metal, band-suspension shock mount, aluminium case, and low-noise power supply.
The ST155 Large-Diaphragm Condenser Microphone features a 1-inch large-diaphragm for recording vocals, instruments and speech. Its hand-assembled capsule and custom-wound transformer are accompanied by switchable high-pass filter and attenuation pad handling up to 144dB SPL from 20Hz to 20kHz. It also comes with SM8 shockmount and case.
The ST131 features a hypercardioid polar pattern, custom-wound transformer and hand-assembled, 1-inch capsule for a variety of recording applications. The ST159 Multi-Pattern Condenser Microphone's selectable cardioid, omni and fig-8 polar patterns.
Sterling also is shipping the SP150/130 Studio Condenser Microphone Pack, which provides two professional class-A FET cardioid microphones. The side-address SP150 is optimised for vocal, instrument and speech recording, while the end-address SP130 instrument is suited to fast transients and clarity.
Sterling has released two shockmounts – the SM5, which can accommodate a variety of medium-body (1.2 to 1.7-inch) studio microphones and the SM8, which fits any Sterling large-diaphragm microphones (1.6 to 2.4-inch body diameter).
More: www.sterlingaudio.net