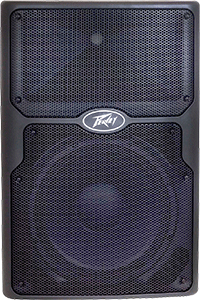 Peavey Electronics has aimed its new PVXp DSP-powered loudspeaker enclosures at applications including PA, DJs and permanent installation.
The design includes a built-in mic preamp with XLR/TRS combo jack and ground lift, with ADSP (Advanced Digital Signal Processing) technology that provides EQ presets for Music, EDM, Rock/Country/Hip-Hop, Acoustic, Voice, Church and Monitor. The cabinet houses Peavey's RX 14 driver with a 1.4-inch titanium diaphragm mated to Peavey's Quadratic Throat Waveguide Technology with an effective 100° by 50° radius (15° upwards and 35° downwards). There are also settings for wall, pole, or fly mount to optimise the sound based on mounting preference. Should the original factory DSP settings need to be restored at any time, there is a system reset with confirmation. PVXp DSP speakers are fan-cooled.
Both the PVXp 12 DSP and PVXp 15 DSP have rugged injection-moulded plastic trapezoidal enclosures with sturdy flying point inserts on the top, bottom, and right side. The PVX eyebolt kit or Peavey Versamount VM 70 mounting systems add the versatility of ceiling or wall mounting. If hanging isn't necessary, there is a moulded-in pole mount. A perforated steel grille with powdered finish adds to the ruggedness and protects these speakers.
The PVXp 12 DSP is available at US$549.99 MSRP and the PVXp 15 DSP at US$599.99 MSRP.
More: www.peavey.com