Announcing Mk4 versions of is ART Series of loudspeakers, RCF has revealed a new generation of two-way class-D fan-less amplifier, updated latest compression driver technology and a redesigned front grille.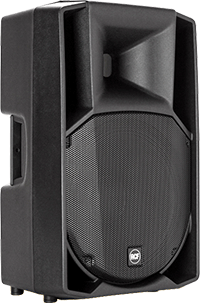 The range includes the 8-inch/800W 708-A, 10-inch/1.4kW 710-A, 12-inch/1.4kW 712-A, 15-inch/1.4kW 715-A, 12-inch/1.4kW 732-A 15-inch/1.4kW 735-A and 15-inch/1.4kW 745-A models.
The ART 745-A pairs its 15-inch neodymium woofer with a 4-inch titanium compression driver with a crossover point of 650Hz, to deliver 133dB maximum SPL. Class-D power amplifier technology ensures high operating efficiency, featuring a solid mechanical aluminium structure stabilises the amplifier during transportation and assists silent and fan-less heat dissipation. The integrated DSP manages full loudspeaker processing, phase filters, crossover and EQ, soft limiter, FiRPhase and a switchable bass boost. The woofer delivers a fast and accurate reproduction of the mid-bass frequency range and controlled deep bass while the compression driver offers a very open and natural midrange sound and extreme precision high frequency reproduction.
The new speakers all take advantage of RCF's proprietary FiRPhase advanced FIR filtering technology. Their plug-and-go design offers double inputs (XLR/TRS jack) and a level control. Cabinets are moulded on a polypropylene composite material designed to damp vibrations even at maximum volume.
The sturdy, ergonomic cabinet is easy to carry thanks to rubber-coated handles – two at the sides and one at the top – while the base of each speaker is solid steel for mounting on a stand or on a subwoofer pole.
More: www.rcf.it