HK Audio has introduced the Linear 3 series of active speakers and added two active models to its Linear Sub family of subwoofers.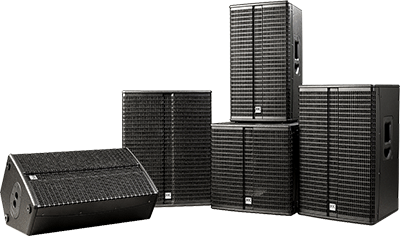 Linear 3 is aimed at bands and DJs in every scenario, offering balanced, sound, low-end, clear speech reproduction, and advanced DSP technology. The first members of the Linear 3 family are the 12-inch/1-inch L3 112 FA, the 15-inch/1-inch L3 115 FA and the multipurpose 12-inch/1-inch L3 112 XA – which functions both as a top and as a stage monitor.
The technology behind Linear 3 is intended to provide consistently good results, even for users who have no sound engineering experience or a pro audio knowledge. Four EQ presets – Bass Boost, Flat (LF), Flat (HMF) and Contour, two of which are active at any one time – provide options for shaping the sound to fit the music style, venue and audience.
In addition, the Linear 3 mid/high units offer plenty of headroom thanks to their 1.2kW class-D power amplifiers, Intelligent Multiband Limiters ensure tonal integrity at every volume level, and precision directivity means the sound will go straight to the audience, with few unwanted reflections.
They are also for use in conjunction with Linear Sub subwoofers, including the new 15-inch L Sub 1500 A and the 18-inch L Sub 1800 A. The low-end punch the L Sub 1500 A and the L Sub 1800 A deliver is similarly suited to the Linear 5 series, and they can also be used to extend the Elelemnts Base systems. Flexible and powerful, the new subwoofers are each equipped with a stereo input, meaning they can be easily be configured in half stacks, full stacks, 2.1 set-ups, and in mono sub clusters.
'Linear 3 is the easiest way to impress your audience,' says HK Audio Product Manager, Alexander Wollenberg. 'Whether you're a PA system expert or prefer to focus entirely on giving your best possible performance, Linear 3 gives you optimal results in seconds thanks to our groundbreaking technology, a bunch of logical yet innovative design features, and made-in-Germany quality. Plus, if you need an extra dose of thumping low-end power, the new Linear Sub basses are the perfect add-on. Linear 3 offers top performance you can trust in – every single time.'
The Linear 3 series and Linear Sub models are shipping now, with the L3 112 XA set for Q3 2017.
More: www.hkaudio.com