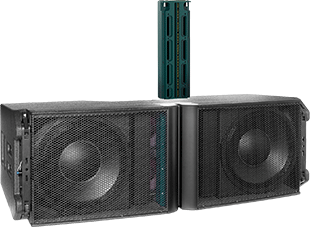 Alcons has launched the LR28/110 Wide Dispersion Larger Format Line Array – a three-way, line-source sound system for use as vertical array with extended horizontal coverage the largest applications.
The LR28/110 is element of the Alcons application-configurable touring package, including the LR28 line-arrays, LB28 bass array extension, BC543 cardioid subwoofer system, Sentinel amplified loudspeaker controller, ARC 3D-simulation tool and power/signal- distribution and transport logistics.
The mid/high heart of the LR28 is the RBN1402rsr, a 14-inch tall, single-diaphragm pro-ribbon transducer with 14-inch voice-coil. The RBN1402rsr and mid section (featuring four high-efficiency 6.5-inch midrange transducers) are jointly mounted on an aluminium cassette for heat-dissipation/reduced power-compression and prolonged system output. The LF section comprises two reflex-loaded, custom 14-inch drivers with reinforced cone and large voice-coil Neodymium motor structure for improved heat dissipation and reduced power compression.
'A long-term ambition was to see how far we could take our pro-ribbon transducer technology, in terms of sheer power output,' says Alcons co-founder and R&D head Philip de Haan. 'We could have made a three-block of LR18 compact mid-size line array units as an under-fill for the LR28, but we wanted to have a dedicated system to maintain the identical performance and array-coupling down to the lowest cabinet. We also knew that a wider dispersion version of the LR28 would prove to be an ideal solution in out fill or delay situations where the audience area is spread more widely and less throw is necessary. The 110º horizontal dispersion of the LR28/110 is maintained up to the highest frequencies, and it can be deployed in dedicated 110º arrays, in combination with the LR28/80, with the LB28 line array bass extension or with both in larger arrays.'
Like the LR28/80, the LR28/110 is powered and controlled by four channels of the Sentinel10 amplified loudspeaker controller. Through the integrated processing and feedback, the ALC offers LR28-specific drive processing with array compensation, filter-presets, system EQ, phase-matching and other facilities. The Signal Integrity Sensing pre-wiring of the LF and MF sections ensures dynamic cable/connector compensation between the LR28 and Sentinel, resulting in a fast, tight mid/bass response and further reducing distortion.
The patent-pending rigging system enables angle setting on the cabinets without lifting the array, resulting in safer and faster set-up with minimal handling. The flying system facilitates two different ways of array assembling - caterpillar and pre-rig-style – with compressed and non-compressed suspension. It has a WLL of 24 cabinets under 10:1 safety.
'Up to 90 per cent lower distortion and a flat frequency response beyond 20kHz at the highest concert sound pressure levels became a reality with the LR28,' de Haan concludes. 'The LR28/110 module extends this capability, delivering enhanced coverage and even better audience experience.'
More: www.alconsaudio.com