French loudspeaker specialist Amadeus has announced the Diva M² array speaker, the culmination of more than 25 years of R&D in live and installed sound.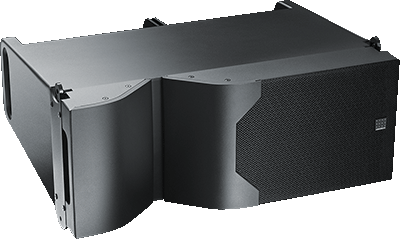 'The Diva M² is not a simple evolution of the Diva M speaker series created in 2006, it is a revolution – a total and radical reinvention,' says Amadeus Marketing Manager, Gaetan Byk. 'This new version raises the bar much higher. Its new design incorporates a dramatic collection of over a hundred major changes, over to the previous model.
'The structure of the low, medium, high frequency transducers, the geometry of the cabinets, their internal and external structures, the active filtering design and more broadly all major acoustic, electro-acoustic, electronic and mechanical components have been completely rethought, reinvented.'
The Diva M² is the newest middle format line source system in the Amadeus Diva Series. The system has a three-way enclosure, bi-amplified design, with two active drivers.
The enclosure features one direct radiating 8-inch neodymium LF transducer, mounted in a bass-reflex enclosure, and two neodymium diaphragm compression HF drivers, coaxially mounted with a single acoustical output, and coupled to an individual proprietary waveguide. Its unique diffraction horn has been optimised to get a vertical dispersion of 10° and a horizontal dispersion of 100°. This type of load ensures a perfectly uniform coverage and spectral quality throughout the listening area.
The mechanical and acoustical design enables vertical arrays of up to 24 loudspeakers with vertical splay angles from 0° to 10° with resolution based on a logarithmic function.
The Diva M² HF ensemble tweeter featuring two voice coils, each with its own magnet assembly and its own specialised phasing plug – which transforms the circular planar wavefront emitted by a compression driver into a rectangular planar wavefront. This phasing plug claims dramatic improvements in high-frequency sound and performance possible in the M² speaker. The tweeter features a unique combination of extended frequency response, high efficiency, and wide dispersion pattern. The driver is a two-way system, employing two concentric annular ring diaphragms. Each driver covers a smaller frequency range for increased power handling, high dynamic and extremely low distortion.
The larger annular midrange diaphragm, featuring a 3.5-inch (90mm) voice coil, covers the frequency range between 750Hz and 6.5kHz with a smooth, linear response. The ultra light annular diaphragm for the high range, featuring a 1.75-inch voice coil, offers exceptional transient response with very high efficiency from 6kHz to 22kHz. The Diva M² system frequency response is 65Hz to 22kHz (-3dB).
'The design of inter-element angles by a logarithm function has been an inherent part of the Diva Series since its creation,' says Amadeus Director of R&D, Michel Deluc. 'This function induces a fineness and a coherence of pointing that no other system can claim – because it features a variable curvature rigging system based on a 'logarithmic structure' of inter-element angles (0°, 0.25°, 0.5°, 1°, 1.5°, 2°, 2.6°...) which helps cover a listening area in finer detail, especially the last rows of seats, far away from the front stage. Our long experience in the field of fixed installations in theatres, operas and other venues, has led us to maintain this differentiating mechanical bias.'
'The development philosophy inherent to Amadeus products remains firmly in the new Diva M² speaker system,' says Amadeus co-founder and CEO, Bernard Byk. 'The development process of this new array system, with a team led by Michel Deluc, has been focused by the needs and feedback from the main users of our current products.'
To deliver optimal full-spectrum sound, the Diva M² Sub can be paired with the Diva M² speaker. The Sub is equipped with two 12-inch transducers, mounted in a bass reflex enclosure.
The estimated release date for the Diva M² and Diva M² Sub is Q3 2017.
More: www.amadeusaudio.fr