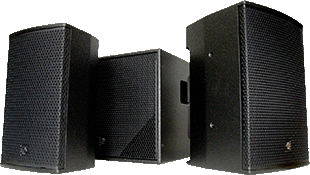 EM Acoustics has announced the ESP Series of compact, self-powered, multipurpose loudspeakers.
Targetting a variety of live sound reinforcement applications, the range currently comprises the ESP-8 and ESP-12 loudspeakers, both with coaxial designs for true point-source performance, and the ESP-15S compact reflex subwoofer.
The ESP-8 is an 8-inch, two-way coaxial loudspeaker delivering a uniform 100° conical dispersion with smooth off-axis response free from the parallax effects of separate HF and LF drive units. The result is a compact, fully self-contained loudspeaker system suited to duties ranging from small FOH to speech reinforcement, front fill or compact stage monitoring.
The ESP-12 is the bigger brother to the ESP-8, sporting the same coaxial design in a compact, lightweight, multi-angle enclosure. Both enclosures benefit use onboard class-D amplification technology and DSP processing, as well as reliable limiting. The amplifier power supply is a universal voltage design, meaning that ESP-8 and ESP-12 will operate across the globe. Four built-in presets are available for different applications: stand-alone use; flat response; use with a subwoofer; and stage monitoring. A number of intuitive rigging options are available for swift and easy set up.
The ESP-15S compact reflex subwoofer that extends the low frequency performance of the ESP Series down to 45Hz. The ESP-15S claims a very high power-to-size ratio, as do the ESP-8 and ESP-12. Integral handles, a polemount fixing and optional castors make the ESP-15 easy to deploy in a wide range of applications, while four presets each use a different low-pass filter.
More: www.emacoustics.com