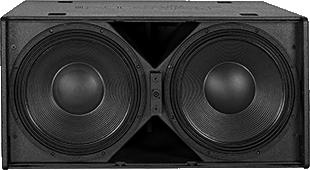 Next-proaudio has released the LAs418 (2x4Ω) subwoofer, using two long-excursion and very high power 18-inch drivers to offer ultra-low frequencies at a very high SPLs.
The front-loaded, ported reflex cabinet claims extremely high peak-to-peak excursion, and operates down to 24Hz at -10dB, with a maximum SPL of 143.8dB. The multi-laminate birch plywood enclosure finished in textured black semi-matte coating, the LAs418 (2x4Ω) can be deployed in either standard or cardioid configuration using a parallel wired Neutrik NL4 connector. It is designed to be driven by Powersoft X series (X4 or X8), giving an increase of 4dB SPL when driven by Powersoft X Line amplifier over an MA6000 driving the standard LAs418.
Both X4 and X8 from Powersoft can provide 5.2kW/channel at 2Ω, in addition to a DSP-controlled Switch Mode with Power Factor Correction (PFC) reducing harmonics and improving the efficiency, driving 2Ω loads. The X Series natively supports AES3, analogue inputs and two optional Audinate Dante digital streams, providing up to four different selectable input sources per channel.
Next-proaudio has also developed an updated touring power rack with Powersoft X Line amplifiers, offering to the customers a worldwide standard, LA Rack, to use in both rental and install applications.
The new Las418 (2x4Ω) is available for order immediately.