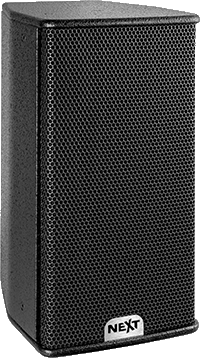 Next-proaudio has expanded its HFA Series of sound reinforcement/installation loudspeakers with the launch of the compact HFA106p.
Designed to complement larger products within the series, the quality and the power of the HFA106p make it well suited to permanent installations, small sound systems for live music, as well as front fill or side fill. It is a system with a 'fantastic ratio between the size and its sound pressure,' the company says.
The HFA106p is a 6.5-inch model with a 90° x 40° dispersion (user rotatable) entirely made in Portugal, using quality custom-made components and housed in birch plywood enclosures, coated with a scratch-resistant textured paint. Versatile enclosure design, combined with a wide range of mounting options and associated hardware, provide flexibility for both portable and installed applications. In this series there are several colour combinations available.
To further simplify creating active two-way systems, the companion HFA112, HFA115 and HFA118 subwoofers use an integrated two-channel digital amplifier to power external full-range passive speakers.
More: www.next-proaudio.com