dBTechnologies' VIO is a large-format, active line array platform, claiming 'revolutionary new technology and exceptional performance'.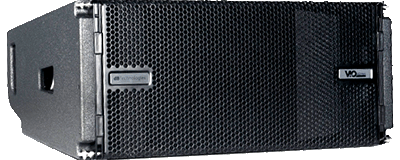 With an integrated three-point rigging system offers precise adjustments and fast, one-person set-up while specially designed transport carts speed system load-in/load-out at all types of event including outdoor festivals and concerts. VIO's L210 full-range line array module features two high-power 10-inch woofers with 2.5-inch voice coils and a 1.4-inch compression driver with a 3-inch voice coil. The L210 boasts a unique acoustic design with aluminium LF phase plugs and a newly-designed HF waveguide to achieve precise coverage control, high efficiency and very high SPL while maintaining voice intelligibility and musical sound quality.
VIO's S318 subwoofer is a powerful low-frequency module with three 18-inch woofers in a compact enclosure. Two of the S318's woofers are half horn-loaded and one is front loaded, and they feature mechanically-aligned voice coils for controlled LF phase response. A simple software adjustment converts three S318s (one facing rearward) into a high-output, cardioid-pattern subwoofer system for greater LF control and throw distance. Equipped with polyurea-coated 18mm multiplex wood enclosures and amplifier rain covers, VIO's line array modules are sturdy and lightweight.
A 900W Digipro class-D amplifier with advanced 56-bit FIR filters powers the L210 to135dB SPL. Three of these amplifiers allow the S318 to reach 143dB SPL. Optically-isolated digital inputs are optimised for a clean, noise free system, and integrated RDNet software provides real-time networked system control and monitoring. Exclusive dBTechnologies Composer software adds simple and accurate system coverage and SPL prediction along with centralised system voicing while available GLL and Ease Focus files enable consultants and system designers to use industry-standard system design software.
'VIO embodies the best of dBTechnologies' expertise,' says Sales & Marketing Director Giovanni Barbieri. 'Our R&D group combined advanced DSP features with specially designed transducers to create a high-performance line array that can be quickly adapted to the most challenging acoustic environments. VIO is attractive, rugged and lightweight with smart, three-point rigging, user-friendly software and dedicated transport carts making it an attractive business solution for growing pro audio companies and rental providers.'
More: www.dbtechnologies.com