Community Professional Loudspeakers is to revive its VLF218 model, adding it to the current VLF208 and VLF212.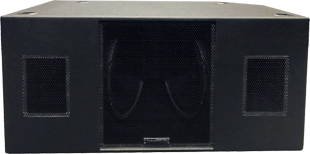 Making its reurn at the coming Namm show, the updated VLF218 is a high-efficiency, dual 18-inch subwoofer system with a slim profile and rugged Baltic birch-ply enclosure. With power handling of 1.6kW continuous (4kW programme) and sensitivity of 99dB/W/m, it also allows. the drivers to be configured internally to be driven by a single amp (1.6kW @ 4Ω) or by dual amplifiers (800W @ 8Ω each).
The VLF218 uses a combination of techniques to keep voice coil temperatures low to avoid power compression that causes reduced output at higher volume levels. Using proprietary Active-Air Cooling, the motor structures of each driver are situated inside of the port where the outside moving air actively removes heat from the assembly. Additionally, cone movement drives air through the vented magnet pole-piece to cool the motor structures further.
Balanced Cone Loading improves the linearity of the system by balancing the front and rear air loads. The third harmonic distortion at 40V (50 per cent power) averages less than 1.9 per cent over its operating range and the enclosure has strong internal bracing to reduce sound energy losses from enclosure vibration.
Standard units are fitted with pocket lifting handles, corner 'hand truck' bar grip handles, tour-grade casters, top and bottom stacking cups and rubber feet. Standard available options include front and rear Seat Track, pole sockets, custom colours, and fibreglass covered weatherised versions.
More: www.communitypro.com