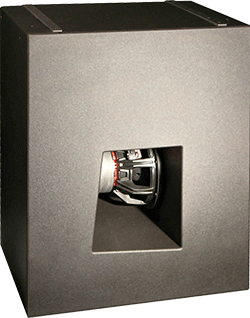 Introduced in 2007 for commercial theatre applications, Danley Sound Labs' TH-50 subwoofer has a 21Hz to 70Hz performance and abundant headroom. With production suspended production in 2011 due to supplier issues, the company has now restored it to its catalogue.
'Audiophiles continue to revere the TH-50, and we have had innumerable requests to get it back into production,' says Danley President and CEO, Mike Hedden. 'Tom Danley's patented Tapped Horn [TH] subwoofer design seems to compel the laws of physics to do magical things, and the TH-50 seems to leverage the Tapped Horn design for maximum effect. It's a beautiful (and incredibly powerful) subwoofer, plain and simple. We're proud to have the TH-50 back in production.'
Four Danley TH-50 subwoofers provide the low end at Chicago's Museum of Science & Industry's massive Omnimax Theater.
More: www.danleysoundlabs.com