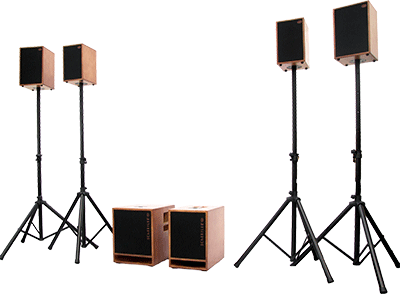 The Schertler Group has release of Tim and Tom; two compact, high-performance, active analogue 2.1 amplification systems that are designed for both acoustic instrument amplification and for general PA use in a range of venues. Each system comprises an active subwoofer and two passive satellites.
Tim is a 600W (350W+125W+125W) system for use with acoustic instruments and in jazz or DJ sets. The system also forms an efficient and compact PA for use in small to medium sized venues, such as piano bars, gyms, conference rooms and ballrooms. Larger sibling Tom has a 1kW (500W+250W+250W) output for use in mediu- to large-sized indoor and outdoor venues, providing powerful coverage for a range of mobile sound reinforcement applications.
Tim and Tom's subwoofers are constructed using BJT (Bipolar Junction Transistor) technology using a linear power supply. Sub levels on both systems can be adjusted from -7dB to +2dB. In each system, the robustly constructed satellites are supplied directly by the sub. All satellites contain a passive crossover featuring a custom coil. Both systems also include other control features, such as a mono/stereo switch, for flexibility.
Tim and Tom's dimensions make them easy to transport, set up and dismantle. The systems can be supplied in either wood or anthracite grey finishes. Insulated padded bags are separately available to ensure safe transportation and storage.
Tim and Tom can be purchased from the Schertler online store (Europe, US and Canada only), or via Schertler showrooms and distributors worldwide.
More: www.schertler.com