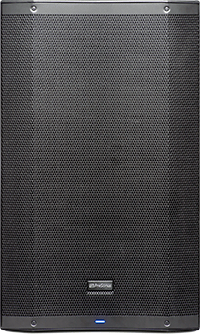 The PreSonus Air active loudspeaker/mixer range offers three full-range loudspeakers for mobile and installed sound applications.
The series includes the Air10, with a 10-inch woofer, Air12 with 12-inch woofer, and the Air15 with a 15-inch woofer. The loudspeakers are driven by class-D/class-A/B amplifiers – 500W (continuous), class-D amplifier for the woofer and 200W (continuous), class-A/B for the HF driver.
The Air15s and Air18s active subwoofers complete the series. Both models employ 1.2kW (dynamic) of class-D amplification and operate to 35Hz. Although designed for use with Air-series full-range loudspeakers, Air-series subwoofers can be used with virtually any full-range loudspeaker thanks to a variable low-pass filter. Presets for the Air10, Air12 and Air15 enable quick configuration for an Air three-way system.
Air loudspeakers are equipped with further DSP presets to customise their response for use as front-of-house mains, monitor wedges, music playback, 'enhanced low end' and a 'warmer sound', and for improved speech intelligibility. Treble and bass controls boost or cut by 10dB to compensate for room anomalies. Location presets optimise performance for stand and bracket mounting, as well as flown installation.
Air subwoofers have DSP presets for normal front-of-house use and for extended low end. The subwoofers offer presets to quickly configure a cardioid array (end-fire or ground-stacked). Polarity reverse and a variable alignment delay are also provided to configure more complicated arrays or to align a sub to a full-range system.
The full-range speakers' moulded plastic, multi-angle enclosure sport non-skid rubber feet on the bottom for upright front-of-house use and on one side for stage monitor applications. The integrated dual-position pole mount lets you aim the speaker level or at a 7.5˚ downward tilt.
Air-series full-range loudspeakers offer an onboard mixer with two combo XLR mic/TRS line inputs, each with a class-A microphone preamplifier and independent gain control. A stereo mini-jack connection admits signals from consumer audio devices. A balanced XLR Mix output passes signals to other Air-series loudspeakers. Air subwoofers sport two combo XLR and quarter-inch TRS line-level inputs with level control, and throughputs are provided to connect full-range systems or multiple subwoofers in larger systems.
More: www.presonus.com