Yamaha has introduced the HS-I range of powered speakers, adding mounting points to the HS Series of studio monitors for a significantly broader range of monitoring, sound reinforcement and installation.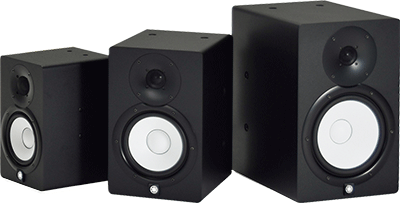 The HS-I range comprises the HS5I, HS7I and HS8I models, all available in black or white finish. With wall, ceiling and baton optional bracket types available, installation in studios or commercial environments with space or surfaces that might otherwise present a challenge is greatly simplified.
HS enclosures are constructed from dense, resilient MDF, with a dampened acoustic response, and employ a traditional three-way mitred jointing technique, which anchors the corners of the enclosure. This improves durability and eliminates unwanted resonance. Designed using advanced noise reduction technology and visual sound analysis, they feature a port design that reduces audible noise by up to 6dB.
All HS models feature a proprietary transducer, which produces a smooth response over a wide bandwidth. An efficient 1-inch dome tweeter extends the usable frequency range, while the woofer uses large, high-quality magnets to deliver well-defined low frequencies at any output level, with exceptionally low distortion.
The amplifier features a biamp design with dedicated units for both the woofer and tweeter. This ensures that each HS Series speaker consistently delivers high-resolution sound with a flat response across the frequency spectrum.
HS full-range models also feature two response controls with detailed settings that allow them to adapt to the surface acoustics of rooms of varying shape and size; Room Control and High Trim, as well as XLR and TRS phone jack inputs to accommodate a wide range of balanced and unbalanced sources such as mixers, keyboards and audio interfaces.
'We continually listen to feedback from our customers and it is always our priority to provide requested solutions as quickly and effectively as possible,' says Pro Audio Business Unit Director, Yoshi Tsugawa. 'HS speakers are trusted by countless audio professionals throughout the world for studio monitoring applications. Our primary goal with the HS-I models was to respond to the many requests that we have received for flexible mounting options, allowing these new models to be used in commercial and professional spaces where superior sound quality and cost efficiency is a priority.'
The HS-I series will be available during Q3 2016.