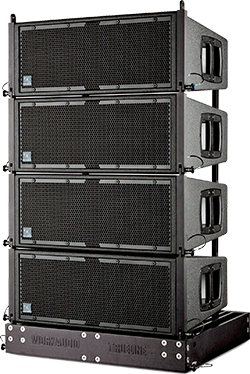 WorxAudio Technologies had added the XL1 to its TrueLine family of line array loudspeaker systems, with versions for A/V integration and touring.
Designed as an ultra-compact high-performance system for speech and music, the XL1 is available in touring and install versions – both powered and passive. The a two-way system uses a large-format 1.4-inch exit compression driver coupled with a proprietary FlatWave Former. Dual 8-inch cone transducers coupled to the (AIM) Acoustic Integrating Module minimize cone filtering throughout the operating range. Central to the XL1's performance is a 160° horizontal dispersion pattern.
Powered versions of the WorxAudio XL1 use the company's new PDA-1000 power amplifier with integrated DSP, Dante audio networking, and WorxControl loudspeaker management. The PDA-1000 is a two-channel, class-D amplifier delivering 500W/channel. With Dante audio networking, powered XL1 versions offer self-configuring digital audio networking. Key features of WorxControl include an 800ms alignment delay adjustable in 0.1ms increments for alignment of delay systems and centre fills. There's also a limiter with variable threshold that enables one to control dynamics without a mixer or an output processor as well as a compressor with fully variable attack, release, threshold, ratio, and make-up gain. The amplifier can be protected from outdoor elements with the optionally available rain shield.
The XL1 features a sturdy multi-ply plywood enclosure, with a multi-layered catalysed polyurethane finish. A perforated, powder coated steel grille with a high transmission ratio protects the drivers. The custom designed flyware enables users to easily array the system to the precise desired coverage area. The XL1 is available in black and white.
More: www.worxaudio.com