DAS Audio has added the UX-218A a new powered subwoofer to its UX Series range of LF speaker systems.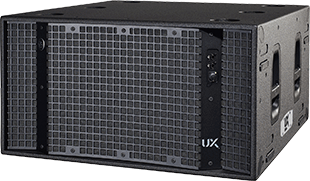 The UX-218A makes use of two of the company's newly developed 18UXN4 transducers, with a 4-inch sandwich split winding voice coil, 52mm peak-to-peak excursion, and a powerful FEA optimised neodymium magnet assembly. Thanks to the double silicon spider, the 18UXN4 controls the moving mass with high linearity. An aluminium demodulating ring benefits lower distortion and the effective ventilation of the voice coil gap provides for a high thermal rating, and reduced power compression. The speaker has an AES power handling capacity of 1.1kW.
The amplifier driving the UX-218A has an output of 2 x 1.7kW, and incorporates current class-D technology. A high-efficiency, low-consumption universal power supply with Power Factor Correction (PFC) allows for fail-safe use worldwide. Other features include a fixed frequency switch mode output stage, providing the highest audio accuracy. A comprehensive set of 'smart' protections include thermal, over-current, short circuit and overload on the output, clip limiter and high frequency protection keeping the amplifier and acoustic components safe. Remote monitoring is provided by way of the DASnet monitoring system and software, an audio management application for DAS powered cabinets and processors.
The enclosure is manufactured using birch plywood to DAS' standards for strength and durability. It is finished with the tough ISO-flex exterior coating and a punched steel grille protects the speaker components. The UX-218 variant designed use with for external amplification.
More: www.dasaudio.com