Martin Audio has announced the CDD-Live! loudspeaker series, combining the company's Coaxial Differential Dispersion (CDD) horns with integrated amplification, Dante connectivity and tour grade materials.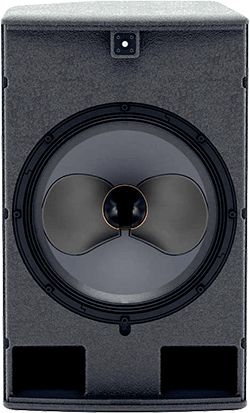 Self-powered, two-way system designed for professional live applications and installations that demand the ultimate in sonic performance from a single enclosure, the CDD-Live! Coaxial Differential Dispersion driver comprises a 15-inch (380mm)/3-inch (75mm) voice coil LF driver and 1.4-inch (35mm) exit HF compression driver, paired with a 3-inch (75mm) pure titanium diaphragm. With a maximum SPL of 132dB peak at 1m, it is suited to medium-scale touring, theatre and portable live sound, as well as installations and stage monitoring.
With wide coverage close-up, the technology employed in the CDD-Live 15 delivers consistent audience coverage than systems with fixed X° x Y° coverage patterns, and its CDD driver achieves 'point-source' summation of the LF and HF sections, eliminating off-axis variations in frequency response associated with non-coaxial designs.
A self-powered system, the CDD-Live 15 incorporates a two-channel class-D amplifier, DSP and Dante digital audio networking. The amplifier delivers 2kW LF/500W HF peak output to the drivers, and its switched-mode power supply auto-ranges to global mains voltages from 100V to 240V 50/60Hz.
DSP functions, including parametric EQ, delay, muting, gain and preset selection, can be controlled over Ethernet from a PC or Windows® tablet via intuitive VU-Net proprietary software.
For simple set-ups, 'plug-and-play' presets, as well as a user-defined preset, can be selected on the rear panel, instead of using computer control. As an alternative to its analogue inputs, the CDD- Live 15 is Dante enabled for digital audio distribution and control over a single Cat5 cable to maintain audio quality however long the cable run.
The CDD-Live 15 enclosure can be used in either horizontal or vertical orientatio. The tour-grade enclosure is constructed from multi-laminate plywood and finished in a hard-wearing polyurea coating. Integral fittings include a top-hat for pole mounting and multiple M8 inserts for attachment to a yoke or universal bracket with a wide range of up and down tilt angles.
More: www.martin-audio.com