Amate Audio has released its first constant curvature array design, the Xcellence X12CLA. It sits below the company's twin 8-inch X208 line-array in the Xcellence series portfolio.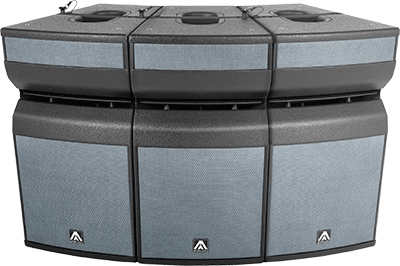 Specified to offer a smaller, lighter and more affordable array cabinet, the Xcellence. X12CLA is an ultra-compact, active, DSP controllable constant directivity array cabinet that can be deployed as a horizontal point-source cluster element. A new waveguide was designed to achieve the required 15˚ constant vertical directivity. The performance and power to form and weight ratios place the it among the world's most powerful, high-quality compact array cabinets; and among the most competitively-priced of any comparable system.
The result of an intensive two-year design and development programme by Amate Audio's R&D team, the cabinet is loaded with a a single 12-inch LF driver and 2.5-inch voice coil with neodymium magnet driver. -distortion, full frequency response down to 58Hz.
In array configuration, the Xcellence X12CLA provides 15˚, 30˚, 45˚ or 60˚ vertical directivity, with one two, three or four cabinets respectively. Inter-cabinet connection is via lateral rigging bars, providing a 15˚ angle between cabinets. With a 'hi-fi sized' form factor and weighing 31.5kg (69.45lbs), a single box delivers 129dB continuous SPL. Portability and a proprietary rigging system integrated with the recessed carry handle, makes set up safe and simple. The cabinet can be flown, stacked or pole mounted on a sub.
The Xcellence X12CLA has also been designed to be deployed as a cluster element in applications where a highly controlled, narrow horizontal dispersion is required.
Onboard digital electronics include high performance 96kHz, 24-bit AD/DA converters and remote controllable 96kHz, 48-bit DSP, optimally matched with third-generation 1.5kW class-D bi-amplification.
Amate's Windows or iPad-based DSP Studio 2 software provides Ethernet and Wi-Fi control of gain, precise crossover filters, limiters, polarity, delay, parametric EQ and other parameters. The software provides comprehensive information about the amplifier status, including input and output levels, heat-sink temperature, clip and protection indications. The overvoltage protection circuit continuously monitors line voltage, instantly disconnecting the system when line voltage exceeds maximum permitted levels; the system automatically restarts when voltage returns to normal.
Cabinet construction is of multilayer Baltic birch plywood with resistant black Polyurea coating with a 1.5 mm steel and grey micro-foam cloth grille.
'Not only did we achieve the intended signal quality with the desired vertical directivity, the design far exceeded the SPL levels we had anticipated,' says Vice President and Chief Technical Officer, Joan Amate. 'This enabled us to match the waveguide with a far more powerful LF driver and to increase the amplifier power rating by more than 50 per cent.'
More: www.amateaudio.com