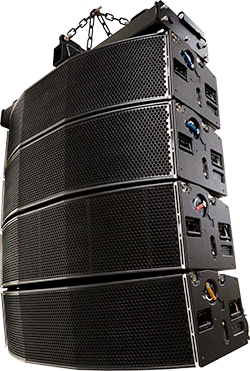 Funktion-One has taken the wraps off its new Vero large-format touring sound system.
Following six years of development, the British loudspeaker manufacturer believes that it is set to 're-define audio and operational performance expectations'.
Between them, Tony Andrews, John Newsham and the Funktion-One team have devised a system that is conveniently arrayable and promises a new level of performance characteristics relating to sound quality, efficiency and directivity.
The Vero system includes speakers, amplifiers, cabling, rigging, transport dollies, weatherproof covers and software, with each element specified or designed for the highest performance.
The speaker range features six highly efficient, low distortion horn-loaded loudspeakers – the V60 mid-high, V90 mid-high and V315 mid-bass with a choice of V221, V124 or V132 bass. The V60s, V90s and V315s all have identical dimensions, enabling them to be flown in the same vertical array. The ground stacked V221, V124 or V132 bass enclosures offer a choice of size and low frequency extension.
Vero is powered by Lab.gruppen PLM 20K44 amplifiers, featuring high power from a compact package, onboard processing and the Dante networking for signal distribution. Three PLM 20K44 amplifiers and mains distro are shockmounted in an innovative, compact rack, complete with sliding doors that stow in the roof of the rack.
Vero's patented Lambda flying system is designed for speed, safety and ease of use. It allows Vero arrays to be deployed accurately and efficiently. All rigging settings can be calculated using Vero's Projection software. Unlike most other flown arrays, Vero's inter-cabinet splay angles can be adjusted with the system in suspension.
Vero's Projection design and prediction software allows Vero users to optimise array designs for smooth audience coverage in any venue. Projection provides venue plan, cross-section and 3D screens. Features include a user-friendly interface, a measurement tool calibrated in distance and time at the speed of sound, and colour coding to differentiate between the different types of enclosure.
'I believe Vero will turn out to be one of the most important developments to come out of almost five decades working in audio,' Andrews says. 'The last six years has certainly been the most challenging – and rewarding – R&D period I've experienced. We're very much looking forward to introducing Vero to the world and seeing what it is truly capable of in the live environment.'
More: www.vero-system.com