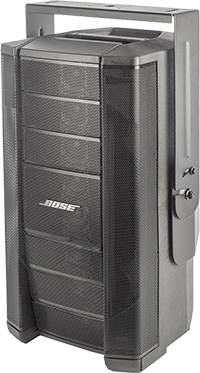 Bose has expanded its F1 Flexible Array Loudspeaker line with the release of a passive full-range model and a suite of mounting brackets. Together with a powered model introduced in 2015, both loudspeakers are for portable and installed applications.
The F1 Model 812 Loudspeaker is the first portable loudspeaker offering Flex array technology, which enables installers to focus sound on specific listening areas with four different dispersion patterns. Using an array of eight proprietary 2.25-inch drivers, 100° horizontal waveguides, a high-powered 12-inch woofer and a lower crossover point, F1 Model 812 loudspeakers promise high SPL performance while maintaining vocal and midrange clarity.
The cabinet has M8 top and rear hang points, along with three dedicated brackets for easy and flexible mounting. Pan and tilt, yoke and U bracket options are available. Additionally, both the portable and installed F1 systems offer easy set up, aesthetic design and durability.
For extended bass response in portable applications, the active loudspeaker and F1 subwoofer have a combined 2kW of power (1kW each). A proprietary mounting stand for the loudspeaker is integrated right into the body of the subwoofer, making set up fast and easy. The stand includes cable channels to neatly hide the wires. Additionally, the loudspeaker and subwoofer feature strategically placed handles for transportation (the system easily fits in a car), made with highly durable materials.
The powered and passive F1 loudspeakers are intended for live music venues, sports bars, clubs, schools, houses of worship and any small- to medium-sized venue requiring a high-performance loudspeaker solution with control and directivity.
Key specifications:
F1 Model 812 loudspeaker (active):
26.1-inch H x 13.1-inch W x 14.6-inch D (664.66 x 334.3 x 372.5mm); 44.5lbs (20.18kg)
F1 Model 812 loudspeaker (passive):
26.1-inch H x 13.1-inch W x 14.6-inch D (664.66 x 334.3 x 372.5mm); 47.5lbs (21.55kg)
F1 Subwoofer:
27-inch H x 16.1-inch W x 17.6-inch D (688 x 410.16 x 448.5mm); 55lbs (24.9kg)
More: http://pro.bose.com