JBL Professional has released the Eon208P, a portable PA system for small bands, solo artists, clubs, schools, meetings, worship events and health clubs.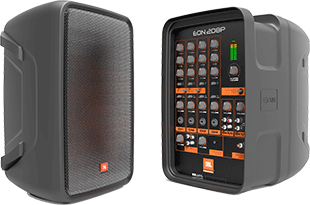 The JBL Eon208P system features two loudspeakers housed in versatile enclosures suitable for ground-stacking or pole-mounting. Each loudspeaker features an 8-inch woofer and 1-inch neodymium black nylon dome tweeter powered by a 320W power amplifier. Like the rest of the JBL Eon family, the Eon208P features advanced waveguide technology for uniform coverage, and the latest cabinet materials, acoustic science and transducer design.
An integrated eight-channel mixer supports a variety of uses. Channels 1-4 can accept either a quarter-inch instrument cable or an XLR cable – and feature volume, reverb, treble and bass controls – suitable for DJs, singers and instrumentalists, and presenters. Additionally, Channels 1-3 offer phantom power and Hi-Z inputs, enabling direct connection of guitars, as well as mics and other devices that require phantom power.
Channels 5 & 6 can accept either a stereo pair of quarter-inch TRS plugs or stereo RCA cables for keyboards and media playback devices. Channels 7 & 8 accept a stereo 3.5mm input for mobile devices such as phones and tablets. Users can also connect Bluetooth-enabled devices directly via the Bluetooth pair button. The JBL 208P also offers a highly robust output section, allowing separate channels to run monitors, headphones and a subwoofer channel simultaneously.
Designed for portability, the lightweight JBL Eon208P system is contained in a durable suitcase-style enclosure, and can be carried comfortably with one hand. Convenient top buttons disengage the speakers when ready for use, and a 36mm pole socket facilitates easy mounting. The unit also features space to store the included power and speaker cables.
'The JBL Eon208P extends a tradition that started in 1995 with the introduction of the first JBL Eon portable PA loudspeakers,' says Craig Lambrecht of Harman Professional Retail Solutions. 'Nearly one million of which have been used for countless applications since.'
More:
www.jblpro.com