Next-proaudio has announced a new point-source loudspeaker range – Kubix is designed to provide high-performance and fidelity, as well as a coverage consistency in fixed installations.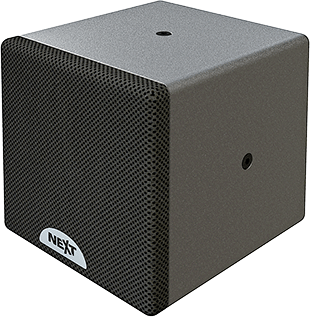 The family currently comprises six models of two-way coaxial loudspeakers: the K5 (5-inch, extended LF, passive), K5+ (5-inch, high-sensitivity, passive), K8 (8-inch, passive) K8A (8-inch, active two-way with DSP), K12 (12-inch, passive) and K12A (12-inch, active two-way with DSP).
These coaxial full-range models are complemented by the K10 (10-inch, active) and K12 (12-inch, active) subwoofers. Both subs are equipped to power external passive satellites – the K5, K8 and K12 as well as other units from the Next-proaudio range. The active enclosures are powered by integrated, lightweight class-D audio amplifiers, engineered to provide high-impact, balanced, rich and transparent sound at any volume.
Integrated networkable DSP provides extended flexibility, allowing adjustment of processing parameters, including input EQ, Input Level, Satellite Level, Input Delay, Satellite Delay, HP/LP filters and Bass Enhancer. A total of eight selectable preset memories are available, six are preloaded with factory presets, and two are available for user settings.
The Kubix Series can be supplied in black or white colour as standard as well as in any RAL colour to special order to address a wide range of install applications, including nightclubs, bars, restaurants, convention centres, hotels, museums and houses of worship. The versatile speakers can be used equally well as monitors, on a tripod stand or wall/ceiling/corner-mounted using the available range of mounting accessories.
More: www.next-proaudio.com